Gore Productions Rates and Information
DV Cam Location filming $40/hr
Video Non-Linear Editing $30/hr
DVD Authoring $30/hr
Custom Computers designed and /or Consultations arranged
Video Encoding to Any Format $30/hr
Audio Encoding to MP3 $30/hr
Audio/Video Archived to CD-R or DVD-R $15 first one,$4 after
WebSite Design $30/hr.
Graphic Design $30/hr
Audio Mastering $40
Cedar Audio Work See the Link Below
Cedar Audio Restoration Work Click For Link
Recently Portland held a World Film Festival.Famous Directors,Films,and Awards as well as speakers.It was a great festival and the Katahdin Award given out to Maine Filmakers was Nyarlathotep Directed by Christian Matzke and Edited here at Gore Productions.Gore Productions also provided audio work and technical advice.A black and white special filmlook was also developed for this picture by Gore Productions.
I can take audio from a variety of sources including vinyl,DAT,8 Track,1/4"reel,etc.I can give you a cassette,CD-R,DVD-R,or DAT as a master for your restoration job.I can also be hired out on a location shoot as an extra cameraman or I can shoot and edit your special event.My specialties are music videos and films of the bizarre.I can be hired out for the more serious jobs as well.I design custom computers geared to the demanding tasks of video/multi-track audio recordings.Need to do home recordings or even more I can steer you in the right direction.Punk bands ,Underground Filmakers and Artists contact me and I will reduce my pricing to "Punk Rock Rates".I will work for much cheaper pricing to support the Arts in General.Feel free to inquire about this service if you are a struggling Artist. Gore Productions has been active for 15 years now.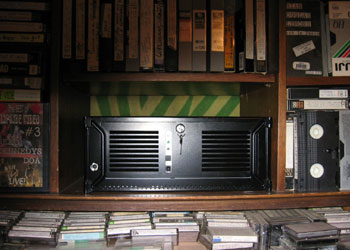 The Gore Studio Rack Mount Computer