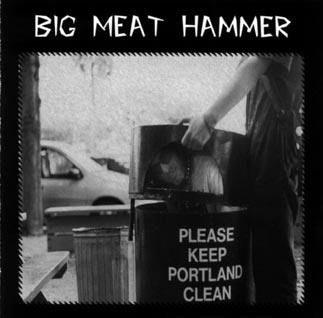 drinkin', FIGHTIN', fuckin'
Keeping Portland filthy
The veteran Portland punk band Big Meat Hammer is utterly lacking in taste, moral fiber or any semblance of social responsibility.
Long live Big Meat Hammer.
Now in its 11th year, BMH has just released its debut CD, "Please Keep Portland Clean," a 28-song collection of raw, bludgeoning punk rock featuring 16 new tracks recorded at Big Sound studio in Westbrook and a selection of recordings from the past decade.
The latest recordings highlight the band's undiminished strengths. Vocalist Jordan Kratz's delivery is strong and self-assured. He doesn't sing so much as offer a snarling, spoken-word performance punctuated with shout-along choruses. Lead guitarist Skummy Man shreds throughout. His playing has progressed the most dramatically over the years, though the new material's slightly more complicated arrangements also highlight the musical prowess rhythm guitarist Jim Rand and bassist (and CBW contributor) Lenny Smith have achieved through the years.
Mark Peterson, the drummer on the new recordings, has since been replaced by the mono-monikered Caleb.
Lyrically, the band treads familiar punk-rock turf. There's alcohol abuse ("Down Em Up," "Pass the Bottle," a cover of the late punk-sicko G.G. Allin's "Drink, Fight, and Fuck"), anti-authoritarian politics ("They Control," "War Machine," "Democracy"), and senseless violence ("Blood Lust," "Butcher Boy," "I Hate You").
In light of all the hand-wringing and moral outrage a certain flash-in-the-pan shock-rapper has inspired of late, it's important to realize bands like BMH have been reveling in vice and debauchery since little Marshall Mathers was in kindergarten, and civilization hasn't crumbled -- yet.
CHRIS BUSBY
Big Meat Hammer plays two CD release parties on Thurs., March 22. The first is at Bull Moose Music, 151 Middle St., Portland, at 6 p.m. Free. 780-6424. The second, with Hate Crimes, the Marvels and Swamp Witch Revival, is at Geno's, 13 Brown St., Portland, at 9 p.m. Tix: $4 (21+). 772-7891.